About Us
Our all-in one lapidary systems, the ProCab4 and ProCab6 were created by Chief Tool Company's principal, Gemcutter & Certified Gemologist "Stoneman Free". It is his passion to provide you with a professional quality lapidary machine that is fully portable ( 12VD ), uses highest quality of materials, and is powerfull and precision balanced. When only the best will do, then our machines are the right choice for you.

Having a life long passion for rock-hounding and gem cutting Stoneman Free wanted a powerful portable precision lapidary system that was compact and versatile to be able to take it to a show, a club meeting, a mine, a road trip, or anywhere else he went to not just be confined to the working at the "home" lapidary shop. Afterall.. once you have the passion for lapidary in you, every moment cutting stones is a good moment, no matter where you are.
Born in San Francisco and growing up in Northern California he started at a young age of 8 years old to learn the art of lapidary. He was fortunate to be surrounded by many mentors and "lapidary old-timers" that were happy to share their valuable knowledge and insights. Today he iis proud to have become an award winning gemstone faceter himself, as well as being a Professional Certified Gemologist.
Stoneman Free has also a background in mechanical engineering, including working for the aerospace industry in the precision tool and die department, an extensive knowledge of electronics design, and has operated his own design and engineering company for over 40 years.
He always worked in his tool shop to improve existing lapidary machines to make them more accurate, run smoother, and just better machines. Howerver they were never exactly what he wanted, which was a truly portable lapidary system that could go anywhere.
Today, with new technology, new materials, new electronics, Stoneman Free is building precision lapidary equipment that is better than anything else currently on the market. Chief Tool Company offers you Professional Quality Lapidary equipment that is truly PORTABLE, extremely smooth running, extremely accurate, and much quieter than anything else on the market. It not only helps you maximize your rough material yield but is a perfect solution for taking your lapidary work to a new level. The Chief Tool Company portable lapidary system will be your new favorite tool in your shop, and you can take it with you wherever you go... take it directly to the mine when rock-hounding, to your shop, your home, your next show, or wherever you want to go to professionally cut your valuable gem material.



Membership: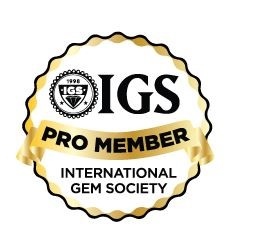 Testimonial

What an amazing smooth running machine! I love everything about it..and the 0 clearance saw blade setup.. amazing how thin I can now slice my material without the risk of being shattered by the vibration of the machine. Love Love Love.. can't wait to take it on my next RV road trip to some of my favorite mines and rock-hounding areas. Thank you for building such a wonderful machine!


John Powers - Grass Vallley
Chief Tool Company Logo History
The logo for the "Chief Tool Company" is based on a Native American Sculpture Stoneman Free built many years ago from Stainless Steel Metal and Wood, long before being aware of his own Cherokee background. To honor that part of his genetic heritage he has chosen that sculpture as his company logo.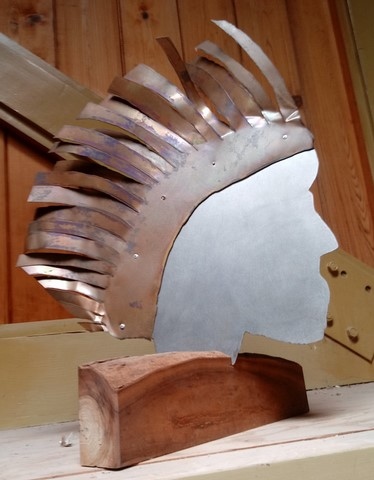 The "Chief Tool Company", which was a fitting name based on his Cherokee Heritage, was born with his first lapidary machine, the "CabPro4",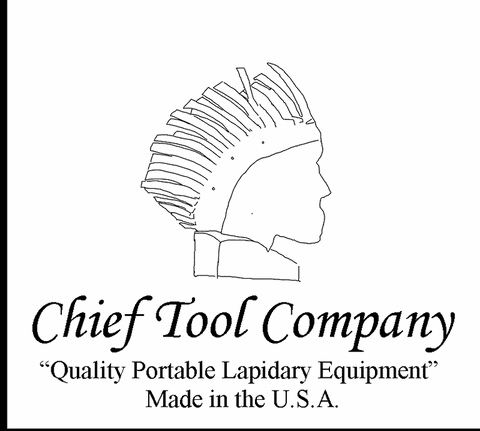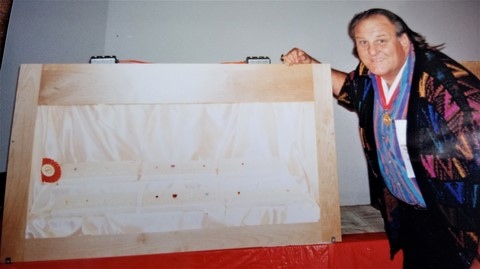 Stoneman Free has a life long passion for Gemstones, Minerals, Rocks, Crystals, as well as building precision machines. Years of practice and his talents for incredible details have made him a Master Facetor and he is proud of having won the "Best Faceted Gemstone Display" in a competition of his peers in 1994.
Got to find more rocks..