Lapidary Wheel Packages
Standard Wheel Package
1 Diamond Wheel - 5 Nova Wheels ( Made in the USA )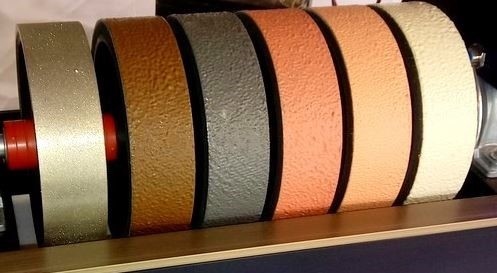 220 Hard Diamond Wheel - Flat

600 NOVA Diamond Wheel - Soft Resin Bond

1200 NOVA Soft Wheel

3000 NOVA Soft Wheel

8000 NOVA Soft Wheel

14500 NOVA Soft Wheel

About our NOVA Diamond Wheels:

The wheels are State of the Art - Resin Bond
Great Performance
Excellent Softness
1.0" Arbor hole with bushings for use on our balanced 5/8" shaft.
Made in USA

These high quality wheels offer you fast, economical cutting and polishing of most gem materials. Helps reduce undercutting and leaves a superior high quality finish. MUST BE USED WITH COOLANT!!



OPTIONAL ALTERNATE WHEEL SETUP:


- Custom - let us know what you want. We will be happy to quote any custom wheel package upon request.
All wheel packages come pre-loaded onto your machine, so it is ready to use when you receive it.